Aspen real estate is the epitome of luxury living minutes from world-class ski runs. Owning one of these top-selling Aspen luxury homes is like living in one of Aspen's beautiful resorts. Step into paradise on acres of land designed to provide a sense of peace and tranquility. If you're in the market for Aspen's best properties, check out eight of your most incredible options.
1. 728 E Francis Street
728 E Francis Street
is a stunning three-residence estate just under an acre of land. Tucked into the woods, this property is peaceful and secluded. The main home has five bedrooms with high ceilings and tall windows that allow ample natural light. The property also includes a single-bedroom carriage house and a two-bedroom guest house. Within walking distance from town, 728 E Francis provides the perfect mix of convenience and privacy. Beautifully designed and manicured outdoor entertainment space rounds off this property as being one of the most luxurious currently available on the Aspen real estate market. 728 E Francis is listed for $37,500,000.
2. 1020 Carroll Drive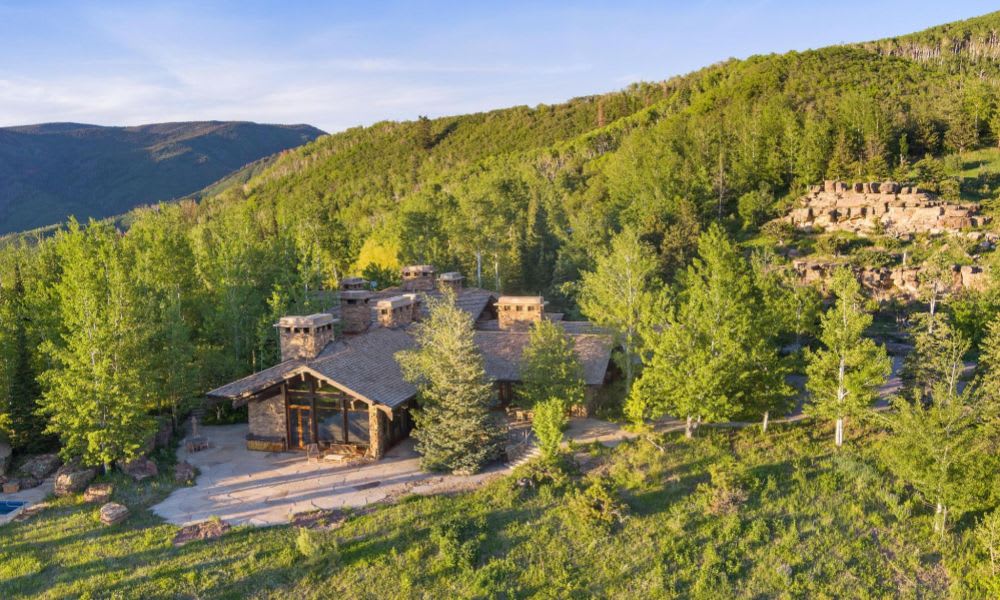 Courtesy of Aspen Snowmass Sotheby's International Realty - Hyman Mall, Chris Klug
When it comes to Aspen luxury homes for sale, it's hard to beat
1020 Carroll Drive
. Part of the Starwood gated community, 1020 Carroll Drive comprises three residences, including a 13,175-square-foot main house. The onsite guest house has four studios, while a number of caretakers facilities exist below the main property. Cross-country skiing, tennis, and walking trails are just a few of the many amenities that Starwood residents can enjoy. In total, the hillside property spans over 23,000 square feet, with charming Craftsman-style architecture, two ponds, and inspiring views. 1020 Carroll Drive is currently listed for $39,500,000.
3. 502 Wrights Road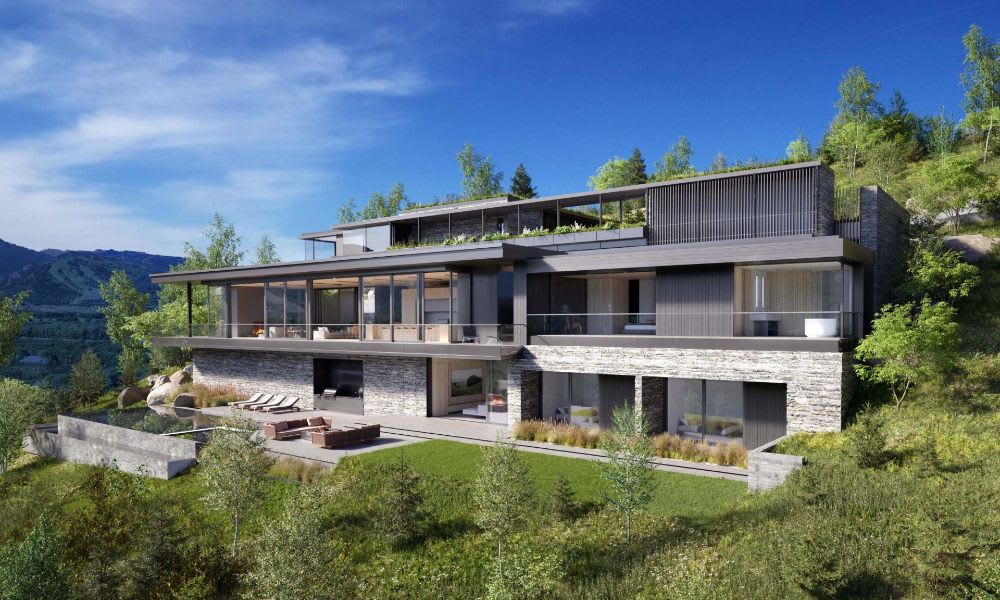 Courtesy of Coldwell Banker Mason Morse-Aspen, Carrie Wells
Chic and modern,
502 Wrights Road
is a new construction scheduled for completion by early 2023. The spacious 9,416-square-foot property will house 7 bedrooms and 10 bathrooms, with a number of unique and innovative features. Top-level, open-air decks will allow residents to get an unparalleled view of the surrounding mountains, while covered patios on the lower levels will be the perfect place to entertain. Dynamic and stylish, 502 Wrights Road has several characteristics of classic modern design, with floor-to-ceiling windows, tiered, geometric designs, and easy access to the outdoors. Upon completion, 502 Wrights Road will be listed for $44,800,000.
4. 931 N Hayden Drive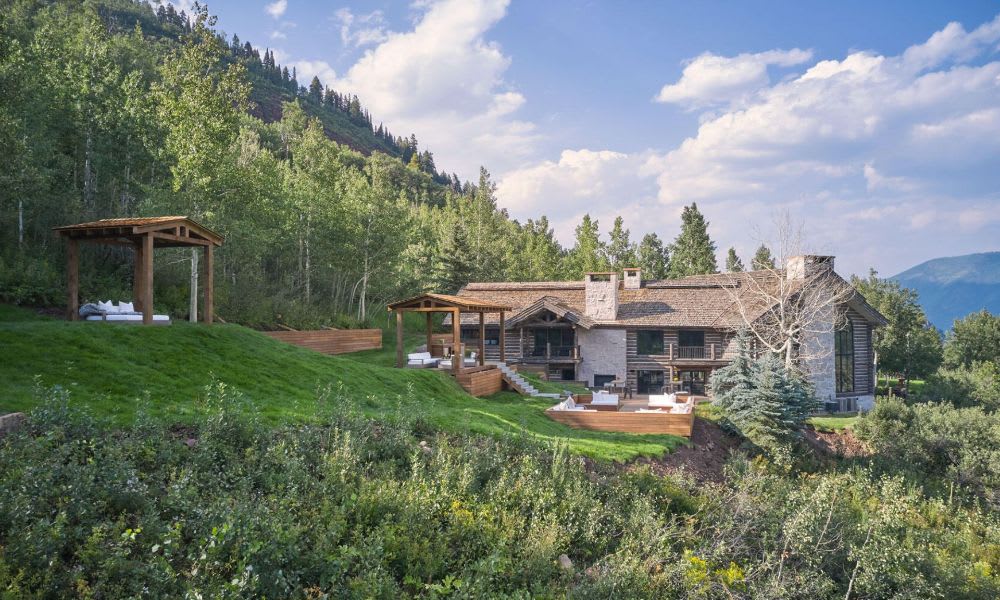 Courtesy of Compass, Steven Shane
Originally built in 1996,
931 Hayden Drive
got an upscale remodel in 2022, turning the nine-bedroom home into a luxury mountainside lodge. If the home's chic log walls and exposed beams don't make you feel right at home in the mountains, its exquisite views will. Rustic and modern designs pair perfectly inside 931 N Hayden, creating a whole new meaning to luxury living in the mountains. The property boasts 5,000 square feet of multi-level outdoor entertainment areas in addition to 17 acres of land with flattened lawns, waterfalls, and two ponds. Fire pits and play structures round out the amenities on this one-of-a-kind property. 931 N Hayden Drive is listed for $45,000,000.
5. 230 E Hopkins Avenue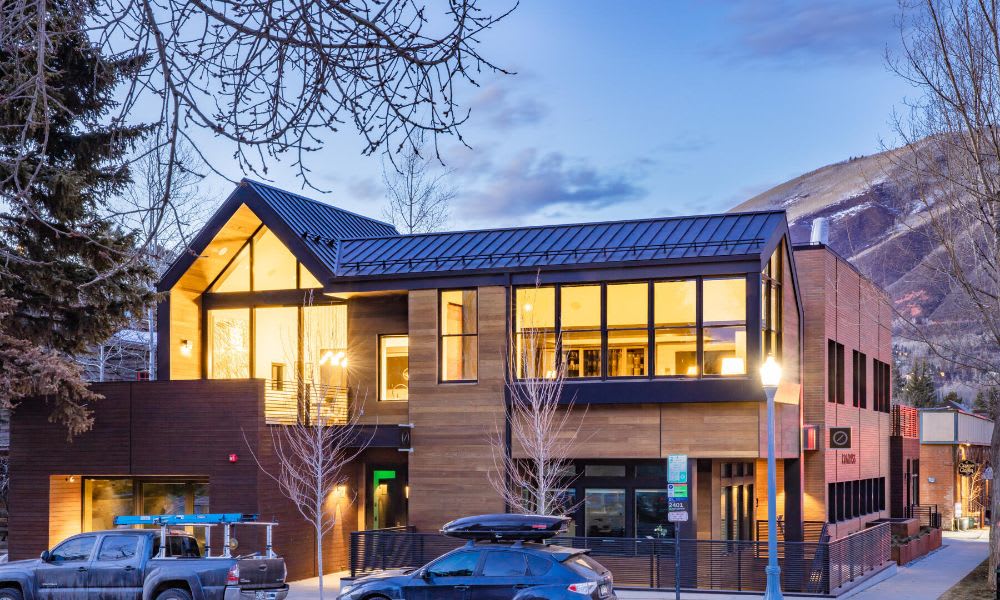 Courtesy of Coldwell Banker Mason Morse-Aspen, Carrie Wells
Step out of your front door and straight into the heart of downtown with this unique piece of Aspen real estate that's part-residential, part-commercial.
230 E Hopkins
, or the Mountain Forge, is a development recently remodeled by Madigan & Co. Right at the end of Restaurant Row, the residence at the Mountain Forge features three bedrooms, a beautiful rooftop deck, and panoramic views of the mountains. The full lot is 6,000 square feet, and the structure is a contemporary mix of brick and wood with large windows. 203 E Hopkins is available for $45,000,000.
6. 1200 Kessler Drive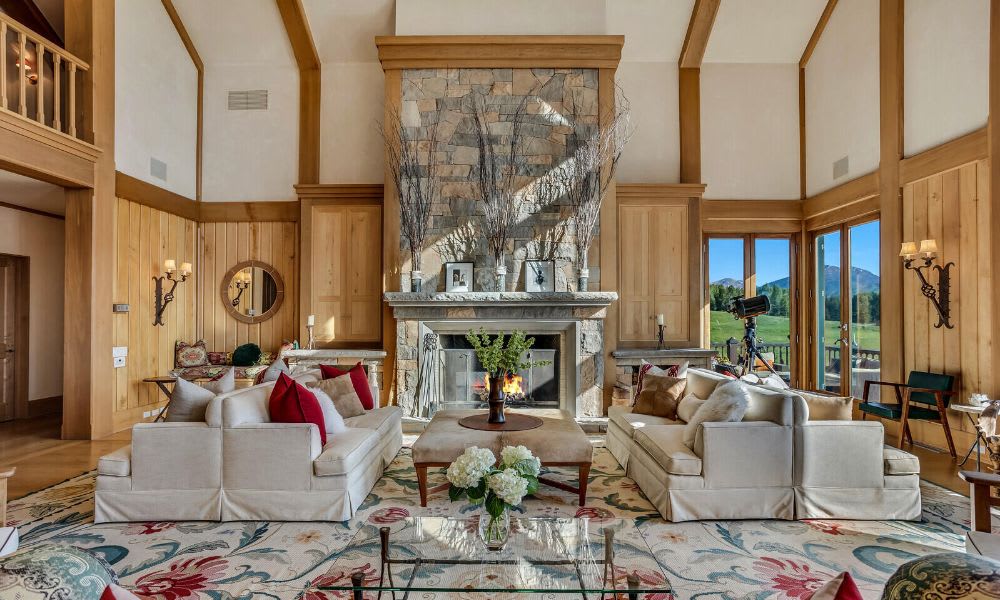 Courtesy of Aspen Snowmass Sotheby's International Realty - Hyman Mall, Bubba Eggleston
Simply divine,
1200 Kessler
provides space and privacy like almost no other. With nearly 30 acres to its name, 1200 Kessler is a picture-perfect estate with sweeping views that extend out over the expansive lawn, past the pond, and all the way to the mountains. Located within the Starwood community, this property also features an outdoor swimming pool and a stunning terrace. High ceilings and climbing windows provide sunset views from every room, while the home's wood accents keep it feeling warm and welcoming. Spanning over 12,100 square feet, 1200 Kessler has five bedrooms, six full bathrooms, and two half-baths. Currently, the property is listed for $48,000,000.
7. 1650 McLain Flats Road
1650 McLain Flats Road
takes Aspen real estate to another level. Only 10 minutes from Aspen's Central Core, the aptly named Merry Go Ranch is a spacious property with more than 22,000 square feet. It all starts with the eight-bedroom main house. A two-bedroom caretaker house is also on the property, along with a barn and full-size gym complete with squash and tennis courts. Aside from that, residents can get some fresh air by walking along the wide-open lawns or playing a game of basketball on the outdoor courts. Perfect for horse-lovers and outdoor recreationists, 1650 McLain Flats Road is listed for $48,500,000.
8. 730 S Galena Street
Rounding out our list of Aspen luxury homes for sale is the incredible estate at 730 S Galena Street. 730 S Galena is one of only five residences that exist on Aspen Mountain, giving it both prestige and historical significance. Originally built in 1979, the property has over 14,000 square feet with 10 bedrooms and 12 bathrooms. Residents can step out of their homes and walk 100 yards to the Aspen Mountain Gondola while also feeling completely secure and secluded, tucked within the surrounding trees. Updated interiors present the picture of elegance and luxury, and outdoor entertainment spaces provide second-to-none views of the slopes. A truly magnificent piece of real estate, 730 S Galena Street is listed for $100,000,000.
Find Aspen luxury homes for sale
Ksenia Tyutrina is a leading real estate agent in the Aspen luxury market. To learn more about her properties or discover other Aspen luxury homes for sale,
reach out to Ksenia today
.
*Header photo courtesy of Courtesy of Aspen Snowmass Sotheby's International Realty Spring Street, Susan Lodge