The Aspen, Colorado real estate market is known for several distinguishing features: gorgeous mountain views, incredible amenities, and easy access to outdoor activities. Because of these, Aspen is one of the top vacation-home destinations in the entire country. Whether you're vacationing in the area during the summer or winter, there is always something to do just steps from your home, and when it comes to owning Aspen homes for sale, the market is unmistakably hot.
The Aspen Times reported
that for 2021, the dollar value of Pitkin County (of which the Aspen real estate market is a part) broke $4.6
billion
. In December 2021 alone, it was worth over $580 million.
If you want a sneak peek into what Aspen's gorgeous, luxurious lifestyle looks like, read on. Here, we'll highlight the five most beautiful Aspen homes available for sale right now. There's something for everyone here, from mountain retreats with incredible views to stunning, modern new builds high in the mountains.
230 E Hopkins Avenue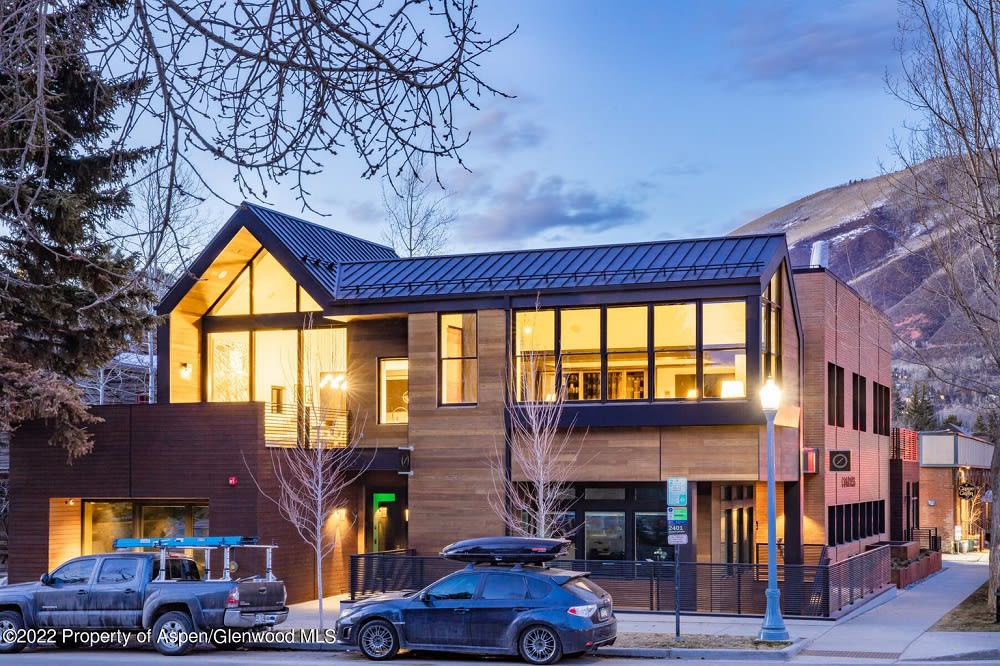 Listing courtesy of Carrie Wells, Coldwell Banker Mason Morse-Aspen
Quick Look: Name: "The Mountain Forge." 3 bedrooms, 7 bathrooms, 10,533 square feet, 0.14 acre


Known as "
The Mountain Forge
," this absolutely stunning piece of Aspen real estate is a combined commercial and residential building located on the edge of Restaurant Row in Downtown Aspen. Featuring a luxurious residency with three bedrooms, 7 bathrooms (4 full baths and 3 half-baths), and a roof deck with unobstructed 360-degree mountain views, "The Mountain Forge" is ready to not only welcome your family, but any business ventures you my seek in Aspen since its unique offering of in-house commercial units are also available!
1200 Kessler Drive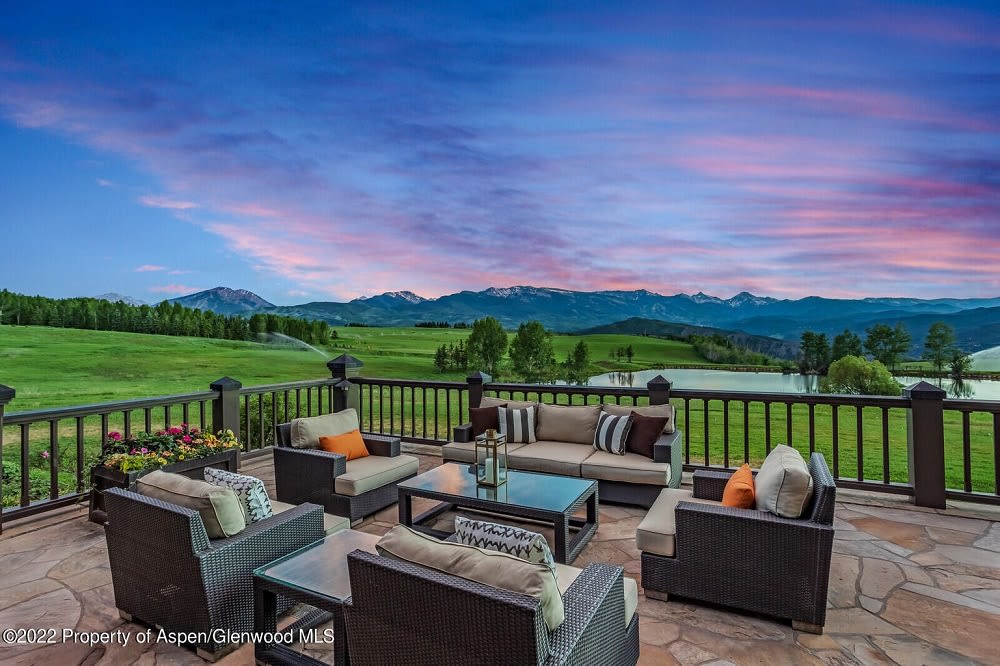 Listing courtesy of Bubba And Tracy Eggleston, Aspen Snowmass Sotheby's International Realty
Quick Look:
5 bedrooms, 8 bathrooms, 12,167 square feet, 30 acres
This is one of those beautiful pieces of Aspen real estate that will make you feel like you're being whisked away
to a secluded ski resort in Europe
. This home is just 12 minutes outside of the Starwood community, and it sits on 30 acres that are nearly
entirely
flat, a quality almost unheard of with most Aspen homes for sale.
The home has a chateau vibe and was designed by
Robert Couturier
, a French architect who designed the famous Cuixmala resort in Puerto Vallarta. There are numerous completely unique, high-end touches to the home, like upholstered walls and beautiful tilework. This home feels like a true, beautiful mountain retreat.
931 N Hayden Drive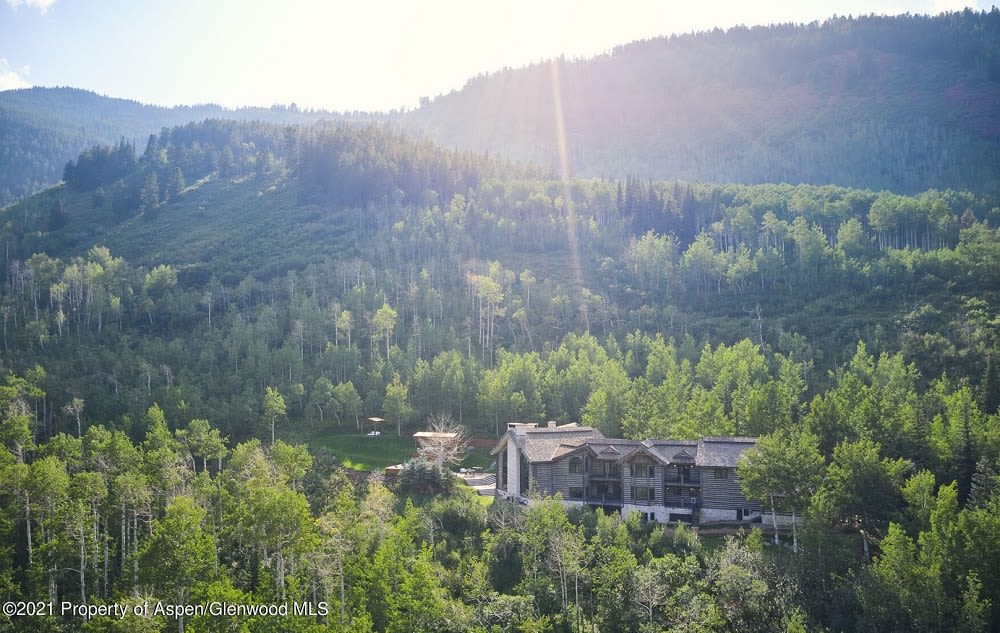 Listing courtesy of Steven Shane, Compass


Quick Look: 9 bedrooms, 10 bathrooms, 11,503 square feet, 17.41 acres
Newly completed after two and a half years of renovations, this legacy estate atop Castle Creek in the valleys of Aspen is splendid mountain living at its absolute best.
931 N Hayden Drive
is the epitome of luxury: boasting finishes and furnishings from the Courchevel and Haute Savoie regions of France, over 17 acres of land dotted with manicured flat lawns, two ponds fed by a natural flowing creek, waterfalls, fire pits, multiple play structures, and over 5,000 square feet of outdoor decks, it truly does not get better than this.
And that's not all: this massive piece of Aspen real estate comprises not only a 11,500 square foot main house with 9 bedrooms and 10 bathrooms, it provides breathtaking views of the Castle Creek Valley, Aspen Mountain, and Mt. Hayden.
502 Wrights Road
Listing courtesy of Carrie Wells, Coldwell Banker Mason Morse-Aspen
Quick Look: 7 bedrooms, 10 bathrooms, 91,416 square feet, one acre
Maybe the mountain-chic style isn't for you—perhaps you're looking for something both lower maintenance and more modern from Aspen real estate. This
gorgeous home has that and so much more
. It sits atop Red Mountain, offering incredible nature and peak views from every floor-to-ceiling window.
There is also an outdoor kitchen, a huge deck coupled with a luxurious pool, and a functional courtyard that will have you spending your summers outdoors. You can't get these views and amenities from most other Aspen homes for sale, and the fact it's not situated on 100 acres is a real bonus if you want to spend less time tending to your property and more time enjoying it.
953 W. Smuggler Street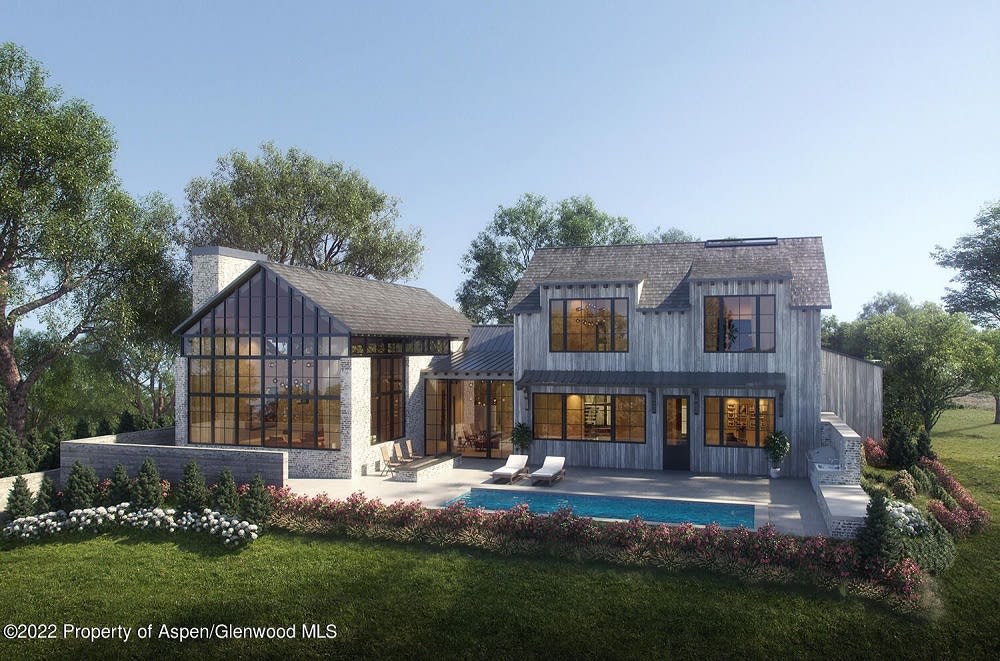 Listing courtesy of Robert Bowden, Bowden Homes
Quick Look: 5 bedrooms, 8 bathrooms, 7,032 square feet, 0.83 acres


When it comes to a home in an actual neighborhood and not within its own secluded area, it doesn't get much better or more beautiful than this home on W. Smuggler Street. This piece of Aspen real estate is gated for your privacy and offers dazzling, unobstructed views of the surrounding area.


The best part about this home is that it isn't built yet. So while you'll have to wait to move in, you will also be able to choose a lot of the finishing touches. The home's layout, design, and first drafts make it a total standout, though; you simply can't beat these two-story, floor-to-ceiling windows.


As a bonus, the lots adjacent to this home have also not been purchased at the time of this writing, which means this complete location would make an incredible family home or vacation retreat.
Thinking about buying Aspen real estate?
If you're interested in seeing more amazing Aspen real estate or want to look at Aspen homes for sale to call your own, reach out to
Ksenia Tyutrina
today. Ksenia represents all of the homes on this list and has worked with some of the most exclusive homes in all of Aspen. She can help you find your dream Aspen home, whether it be a beautiful vacation mountain retreat or the perfect place to call home year-round.
If you're not sure that Aspen is right for you, check out Ksenia's
locals' guide
to summer and winter in Aspen, including the best activities for anyone looking to get outside or live like a local.

*Header photo courtesy of Ksenia Tyutrina