Whether you're looking for homes for sale in Aspen, Colorado, or anywhere around the country, the U.S. real estate market is a wild west right now. Over the past two years, housing prices have skyrocketed, and the situation is only getting more complicated with each passing month. So, if you're overwhelmed by this entire seller's market situation, take a look through our breakdown of current real estate trends and what they mean for Central Core Aspen real estate.
The 2022 market
Overall, today's real estate market is an expensive place. Since 2019, purchasing homes and properties have jumped in price substantially. It's not uncommon to see
2022 housing inventory worth 17-29% more than it was in 2019
(if not more). And that doesn't even account for homeowners making drastic home improvements to up the ROI of their real estate.
When trying to snag the home of your dreams across the nation, the average house
only stays on the market for 18 days
. Considering the inclusion of overpriced houses and luxury houses, which often take a few months to get off the market, that number is staggering.
Moreover, a huge movement has turned the "bid a little over the asking price for your dream home" standard into a constant bidding war of paying up to $100,000 over the asking price to win a home. There's also the new minefield of all-cash offers snatching homes out from under borrowers to consider, too. It sometimes seems like asking prices have turned into a soft suggestion that ends in the final buyer paying a lot more than intended.
It's no surprise this kind of haphazard, inflated market has become intimidating for buyers. And when it comes to high-profile and highly desirable properties, like homes for sale in Aspen, Colorado, the situation becomes even more stressful and competitive.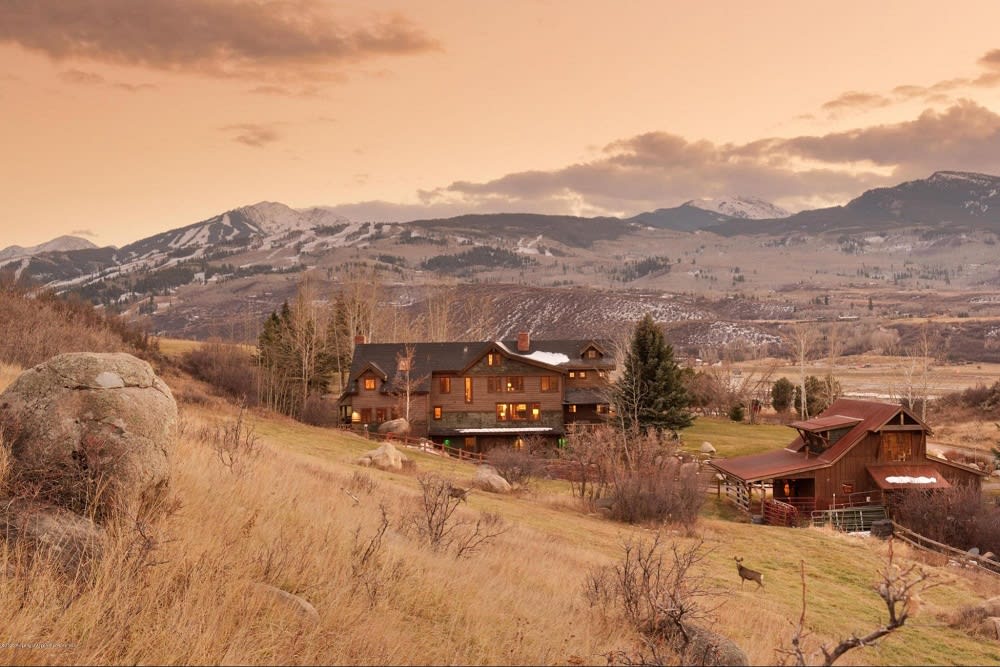 Aspen housing prices
Let's look at Central Core Aspen real estate and the surrounding resort area in particular. Homes for sale in Central Core Aspen sell for an average of $2.6 million. While these prices are high, the plus side is that fewer people are looking in this price bracket, so there should be less competition for homes. Aspen real estate is so desirable right now that this might not be the case.
In 2020, 205 homes were sold in the Aspen market
. That's an Aspen record, selling twice as much as 2018 and 2019. So, even with less competition, you'll likely have to come in over the asking price when you find your dream home.
Number of Aspen houses
There will be hundreds, if not thousands, of options on the market in a larger city. However, in Aspen, there have been about 30 listings from March through April. That makes realizing your Central Core Aspen real estate dream much harder, between the lack of options and the competition.
Aspen interest rates
As previously mentioned, national interest rates are rising,
sitting at 5.3% for a 30-year fixed mortgage
. But buyers interested in Aspen homes for sale will be happy to learn that Aspen interest rates are better than the national average. They sit at
a 4.7-4.9% rate for that same 30-year fixed mortgage
. So, while that's still a steep increase from just a few months ago (the national average was 2.98% in January 2021), Aspen is still improving over many other regions of the United States.
Other factors
Now,
a handful of extraneous factors
help make Central Core Aspen real estate all the more scarce and expensive than other places around the country. After all, not only does Aspen have rare, ornate, gorgeous Victorian architecture, but these homes are also close to the famous Aspen ski resorts. So famous, in fact, that Aspen itself has a celebrity status, which contributes to the costs and desirability of local homes. What's more, considering Aspen's eco-friendly homes, the wide berth of high-quality medical care and school options, and the vibrant arts community, it's no wonder the area has become one of the hottest markets in the country.
Sure, anyone could understand if the high prices and competitiveness of Aspen's real estate market discouraged you from moving forward. But don't give up hope on your dream of owning Aspen real estate just yet.
If you do your research and work with an experienced, local real estate agent, like
Ksenia Tyutrina
, you'll be much more likely to find your dream home and have a smooth buying process. Her extensive network of local contacts has helped her pursue many off-market opportunities. You'll be in good hands with Ksenia's many years of experience in the Aspen real estate market. Contact Aspen real estate agent
Ksenia Tyutrina
to get started.